Are you looking for the best Shopify Apps to help your e-commerce store grow?
This is the right place.
Incorporating Apps into your store can help you boost sales and revenues, improve customer service, enhance retention, and streamline various business processes and tasks.
With the right tool, running and managing your store becomes hassle-free.
This guide gives you a detailed review of the best Shopify Apps that will help you boost your sales, drive traffic, and optimize your business.
Want to find out?
Come with us.
If you are looking for the best apps to grow your business, this list is for you
1. Trustoo Product reviews Ali reviews
2. Loox Product Reviews & Photos
4. Back in Stock ‑ Restock Alerts
5. Loloyal: Loyalty & Referrals
6. Trust Me ‑ Trust Badges & Icon
7. SEO&Image Optimizer&Page speed
8. Parcel Panel Order Tracking
9. ET Language Translate‑Currency
10. Live Chat, Help Center, FAQ Page
11. Klaviyo
12. Omnisend
13. NotifyVisitors : Email & SMS
15. Dropshipman- Ali Dropshipping
16. DSers ‑ AliExpress Dropshipping
17. Instafeed – Instagram Feed
18. Outfy
19. ReferralCandy
20. Wisepops
Best Shopify App for Product Reviews:
Shopify Rating: 5.0
This feature-rich review app is designed to help you collect and display your customers' comments about your Shopify business and products with photos. This app can promote word of mouth and referrals and boost customer retention and revenues.
With Ali Reviews Product Reviews, you'll be able to make the most effective marketing materials out of social proof ( including reviews and other user-generated content such as pictures.
Key features
Product page review display: This allows you to collect and showcase your customers' reviews, including photos.
Reviews import: It enables you to collect photo reviews using Amazon/AliExpress Reviews importer and other apps. You can also transfer existing reviews from other platforms by importing CSV files.
Product review management: This allows you to select the product reviews you wish to publish, edit the reviews to match your products and display all the reviews in a single place.
Translate reviews: This translates your content into various languages to help your local customers convert to purchases.
Pricing
A free plan is available for life, and a paid plan starts at $9.99 monthly with unlimited options. And for BFCM, Trustoo.io reviews offer a special code for all of our new users and old users. Install Trustoo.io reviews and redeem this code (trustoo.io-2023blog) to get a 30% off for the first month!
Best used for
Collecting and showcasing photo reviews from customers
Using social proof for marketing your products and shop
Pros
Intuitive and easy-to-use interface
Has numerous features
Excellent customer service
Available in various languages
Cons
Limited features in the free version
Customer review
"Awesome, this app is cool, easy to use, and less expensive with a free trial. It has helped me advertise my app with reviews. I highly recommend it"
Shopify Rating: 4.9
Looking for an easy way to increase conversions and sales? This is exactly what Loox helps you achieve. The app allows you to send automatic review request emails to your customers after they purchase your products. With this app, you can ask customers for product reviews and, in return, offer them discounts each time they submit photos or videos.
Key features
Smart and customizable automated review request emails that allow you to collect authentic product reviews.
Beautiful and customizable widgets enable you to showcase your happy customer content and make your brand shine.
Share reviews with incentives that allow you to offer discounts to encourage customers to leave reviews. This can help you generate traffic to your website.
Intuitive interface and 24/7 support for easy setup.
Pricing
Loox offer a 14-day free trial. Pricing starts at $9.99/month for the beginner plan, $34.99 for the growth plan, and $299.99/month for the unlimited plan.
Best used for:
Obtaining authentic social proof and real word-of-mouth referrals
Showcasing customers' photo and video reviews
Pros
Offers various display options
Easy to set up
Sends automatic review request emails
Cons
No Google shopping integration for lower plans
Full customization is available for higher plans only
Customer review
"The reviews on our website provide excellent social proof that helps us to convert sales. The customer service team at Loox have been quick to respond and help us when we have reached out". Customer review
Best for Subscription
Shopify Rating: 4.9
Configuring a subscription has never been easier! Install the app, create your first subscription rule and start generating sweet recurring revenue. Seal Subscriptions app gives you full control over your subscribers, products, discounts, churn rate, subscription boxes, cancellations with a great support team behind it to help you with whichever situation you find yourself in! Made in Europe.
Key features:
Sell classic & prepaid subscriptions, with discounts, free trial & more!
Offer tiered discounts, custom shipping, gifts, & more with loyalty features
Your customers can easily access subscriptions with magic links!
Get an insight in your business with great statistics, payment calendar and more
Use the white-label branding with custom email domains!
Pricing
FREE FOR LIFE: Free to install;
SUPERSALE: $4.95/month
RISING STAR: $7.95/month
LEGEND: $20/month
Best used for
Product subscriptions
Bundle products
Flexible payment options
Pros
Professional look
Easy navigation
Reliable performance
Responsive customer support
Free plan for small businesses and no transaction fees
Cons
Limited features in the free plan
Customer review
"If I could give Seal 100 stars, I would. Their support is unparalleled. I wish every other app provided as exceptional support as these guys. They have thought through every complex aspect of subscription management and the customer experience. Don't be put off by their website. It was a no-brainer to go with Seal after we saw the feature list and did a demo. We are glad not to be paying …" Customer Reviews.
Best for Restocking
Shopify Rating: 4.9
Nothing frustrates customers more than finding their favorite products out of stock. This can lead to high bounce-back rates. While loyal customers may wait for the item to return, they may not have the time to check daily. It's thus important to quickly let your customers know once you've restocked the products. And that's where Back in Stock -Restock comes in.
This app will help you send notifications to your customers, letting them know that your products are back in stock. The app inserts a button on your out-of-stock products where customers can sign up to be notified once you restock the products. This will help you regain your lost customers and sales.
Key features
Fully customized email templates that allow you to send automatic back-in-stock emails to your customers
Drive more sales back by sending your empty-handed customer's back-in-stock notifications and increase your revenues
Easy one-click and quick setup, which automatically enables the email button on your product page
Pricing
Back in Stock- Restock Alerts offers a free plan and a paid pro plan that costs $5/month
Best used for
Sending restock notifications to customers
Getting back lost customers and sales
Pros
Simple setup
Sends automatic restock notifications
Increases sales and revenues
Cons
Not supported on mobile phones
Customer review
"Just installed it in the store. Due to the nature of the products we sell, many of them go out of stock; this app helps us capture potential buyers and simultaneously measure the demand for certain products. Also great and fast support". Customer review
Best Reward and Loyalty Program
Shopify Rating: 4.9
Building a loyalty and loyalty program can boost the growth of your online business. It can help you improve your customer engagement, increase brand loyalty, encourage repeat purchases, and build stronger customer relationships. Getting an effective app will go a long way in helping you achieve this. And what can be better than the Loloyal Loyalty app?
This app helps you to create and customize loyalty and rewards that convert your customers from like to love. It allows you to reward customers for valuable actions like purchases, sign-ups, referrals, reviews, social media shares, and birthdays.
Key features
Fully customizable rewards program allows you to offer incentives to your customers and encourage them to make repeat purchases.
Points loyalty program: This offers points to your loyal customers for valuable actions, including reviews, referrals, purchases, social media shares, and sign-ups, among others.
Fully branded functionality that allows you to customize your program to fit your brand
A referrals loyalty program that rewards customers for referring others
Pricing
This app is free to use
Best used for
Building customer loyalty and engagement
Encouraging repeat purchases
Rewarding loyal customers
Pros
Boosts sales and revenues
Increases traffic through referrals
Customizable widgets
Cons
Not ideal for beginners
Customer review
"This app is pretty awesome and does what I need it to do 🙂 And I had a great experience with customer service. Mariadel was very fast, helpful, and friendly. Overall, it was a great experience, and I would recommend this company to others". Customer review.
Best for Social Proof
Shopify Rating: 4.9
This app helps you reduce the bounce rate by displaying trust me badges and gives your customers a great degree of security by showing your certified payment options. The app is easy to set up with a single click and requires no coding skills.
You can customize your trust badges by changing the colors and sizes. The app displays your badges on mobile and desktop versions with its preview feature. Trust Me uses its CDN server for faster and top-notch performance.
Key features
Reduce bounce rate with icons of confidence that keep customers in your shop
Establish consumer trust by showing them multiple payment methods. Use beautiful animations to establish strong relationships.
Push sales higher by offering a variety of badges to ease your customers and motivate them to purchase from you.
Pricing
This app is free.
Best used for:
Establishing customer trust
Reducing bounce rates
Pros
Easy to set up
Customizability
Multiple badge options
Extremely simple installation
Cons
Ideal for large companies
Customer review
"I am using this app to let my customers know that my site is legit and secure. This way, they can feel safe making a transaction on my site. I wanted my badges placed in a certain place on my product pages, and I had both Rienna and Jaja help me with the placement of the badges. Very happy with the placement badges and this app. Thank you for the help". Customer review
Best SEO Optimization
Shopify Rating: 4.9
Ensuring your product images are optimized is essential as it hugely impacts your website speed. Failure to optimize your product images will reduce your web speed resulting in poor ranking in search engines and, consequently, low conversion rates.
As such, you need the help of SEO& Image Optimizer & Page Speed. This app boosts page speed and SEO by optimizing image size and alt texts. With this app, you'll be able to edit Alt Text, Title Tag, and Meta Descriptionwithin a single page. It additionally enables you to bulk edit image Alt text and Meta elements with just a few clicks.
Key features
On-Page SEO scan: This enables Google to understand what your pages are about, ensuring a higher ranking on Google and increased organic traffic.
Detailed SEO check report: It shows the areas of your site that need optimization and gives you a clear SEO score.
Bulk Edit Alt Text and Meta Elements: This allows editing title tags, Alt texts, and meta descriptions from a single page.
Automated SEO Meta Elements templates: save time by setting your preferred template for Alt text, title tag, or meta description and synchronize it to the pages you want to optimize.
Pricing
It has free basic and paid plans costing $29.99/ month for the pro plan and 59.99/ month for the Premium plan.
Best used for:
On-page and product image optimization
Promoting organic traffic
Pros
Increased organic traffic
Better ranking on search engine
Higher conversion rates
Cons
Some users claim that the app duplicates their images
Customer review
"I love this app! it makes it easy to identify optimization opportunities. Support is great, image optimization works great, and I am very satisfied".
Best Order Tracking
Shopify Rating: 5.0
Parcel Panel helps you keep track of your orders with real-time shipping notifications. With built-in shipping, Shopify native email, and SMS notifications, you won't have to worry about customers' queries, as the app will keep them informed about the status of their orders.
Better still, this app will help you increase customer loyalty and boost sales by providing an outstanding customer post-purchase experience with a branded tracking page. This will send customers back to your store for more sales.
Key features
Tracking order notifications: The app automatically sends order tracking notifications in real-time, enabling you to know exactly where your packages are at all times.
Branded tracking page: It allows you to generate a branded tracking page that you can share with your customers. This helps customers to keep track of their orders rather than coming to you for support.
Smart analytics: This gives you incredible insights into your shipping and upsells performance allowing you to make smart decisions.
Shipping notifications: Enable you to keep your customers engaged through proactive and timely notifications.
Pricing
Parcel Panel offers a 7-day free trial and 3 pricing plans. The Essential plan costs $9/month, the Professional plan costs $49/ month, and the Enterprise plan $399/month.
Best used for
Order tracking
Improving customer satisfaction
Pros
Real-time order notifications
Higher customer loyalty
More sales
Cons
Limited features in the free plan
Customer review
"Easy to navigate and the customer service is excellent. I will recommend this service to anyone needing order tracking for their Shopify store". Customer review.
Best for Language Translation
Shopify Rating: 4.8
With this app, you can reach the global market and boost your conversion. By translating your store into several languages and adding various currencies, this app makes your store available to customers in different regions all over the world.
Moreover, this easy-to-use app allows you to translate your language automatically using the Google Neural Machine Translate API or manually with a clean interface.
Key features
Friendly SEO booster: Allows you to add hreflang tags for each language or region URL
CSV Export & Import: This makes it possible to edit your translation with a CSV export file
Auto switch language and currency: Depending on geographical location, your customers can shop without difficulties.
Translate store into multiple languages: You can add up to 20 Shopify languages to help with international marketing.
Pricing
In addition to a free plan, this app has a basic plan costing $8.99/month and a growth plan at $16.89/month.
Best used for
Language and currency translation
Boosting conversions
Pros
SEO friendly
Easy setup
Automatic currency and language translation
Cons
Page assets translations only available for higher subscriptions
Customer review
"The app is easy to use and gives good average translation; it's just a shame you need to get one of the higher subscriptions to use the translation of page assets, such as filters, etc. Great and fast support from Lisa, who answered all my questions". Customer review
Best Chat & FAQ Automation
Shopify Rating: 5.0
This is an easy-to-use customer app that is focused on improving customer interactions. Helpcenter's Shopify app enhances its live chat functionality with ticketing, FAQ, and live chat software.
With the app's user-friendly FAQ generator, you can quickly create an educational FAQ page that will help you to save lots of your support desk's time. You'll also be able to manage incoming inquiries regardless of the channel with ease.
Key features
Live chat facilitates fast and efficient communication with your customers at all times.
Multilingual FAQ builder: This allows you to create organized and easy-to-navigate FAQ pages
Help desk: with this feature, you can manage your incoming customer inquiries from a single location without switching to and from different apps and platforms.
Pricing
This app has a free plan in addition to a basic plan that costs $9.90/month, a Pro Plan at $29.90/month, and an advance plan at $99.90/month.
Best used for
Customer interaction and communication
Pros
Easy to set up with no coding skills required
Works perfectly with several Shopify shops under the same account
It's free to sign up
Offers drag-and-drop editing options
Cons
Integration with Shopify shops only
Lacks visual communication features
Customer review
"Super awesome support app with a brilliant support team. Can't recommend them enough! I can easily see why there are no negative reviews for them". Customer review
Best for Emai Marketing & SMS
Shopify Rating: 4.3
Klaviyo is a potent email marketing and automation solution that provides a full feature set and a 360-degree picture of the customer. With this app, you'll get full information on every aspect of your customers, including how they came to your page, the products they viewed, and the time they spent on it.
You can also segment and analyze your customer base, enhance personalization, boost ROI, and automate certain communications with this app. Klaviyo also generates reports that help you better understand your customers' wants and what influences their purchases.
Key features
Integration: The app offers seamless one-click integration with leading e-commerce platforms allowing you to sync all your past and present data helping keep track of every interaction on your page.
Segmentation: This allows you to send relevant content, which helps in boosting engagement and drive sales.
Automated emails: Klaviyo offers multiple automation that are fully customizable such as happy birthday discounts, welcome emails, or abandoned cart emails that ensure that your customers get timely and actionable information.
Pricing
A free plan for sending up to 250 contacts per month is available. Paid plans start at $20/month for emails and $5/month for SMS marketing.
Best used for:
Capturing the entire funnel from visitors to repeat customers
Mid-sized businesses
Pros
Powerful data and analytics
Seamless integration with other eCommerce platforms
ROI-based tracking and reporting
Cons
Not-so-good customer service
The free plan allows only up to 500 emails and 250 contacts, beyond which charges apply for
Customer review
"The app is very easy to use. The support team is as good as I have ever seen. Sales are increasing, and the app is well worth the money". Customer review
Shopify Rating: 4.8
By integrating Omnisend into your store, you'll obtain visitor emails and nurture leads with campaigns and boost your sales and marketing efforts. It assists you in managing every step of the funnel, from list creation to customer retention and future sales. Additionally, you can integrate SMS and push notifications in your message.
This app integrates with numerous other e-commerce apps you may use in your store.
Key features
Email segmentation helps you increase your conversions with targeted, well-personalized messages.
Advanced reporting that gives you all the information including sales details and performance metrics in a single view
Ready-made email templates with a drag-and-drop email editor for easy easy email design.
SMS marketing and push notifications integration in all your campaigns and workflows; hence no need to pay more for other apps.
Pricing
Free pricing is available for up to 250 contacts. Paid plans start at $16/month for the standard plan and $59/month for the Pro Plan.
Best used for
Growing Shopify shops with email, SMS, and push marketing
Building an email list quickly
Pros
Powerful segmentation tools
Multiple integrations with other e-commerce platforms
Drag and drop email editor
Cons
Few email templates to choose from
Requires some time to learn the system
Customer review
"Simple to use email & SMS marketing solution with affordable prices. Also, the 24×7 support is very responsive and helpful".Customer Review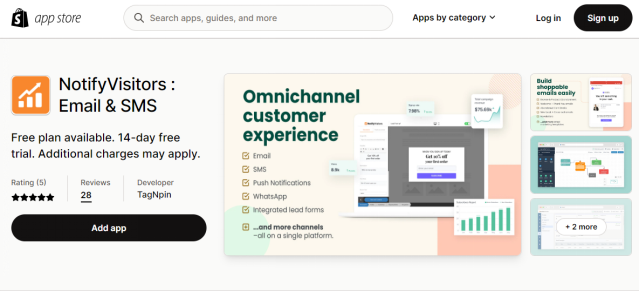 Shopify Rating: 5
NotifyVisitors is a powerful email marketing software that empowers businesses of all sizes to effectively reach and engage their target audience.
It has robust features, such as email personalization, email automation, email list segmentation, and more. What truly sets it apart from the competition is its intuitive user interface that allows users to get up and run quickly without requiring advanced technical knowledge.
Furthermore, NotifyVisitors provides detailed analytics reports so that users can gain invaluable insights about email campaigns and optimize them for improved performance.
It is no wonder why businesses have turned to NotifyVisitors to stay ahead of the email game in this era of digital marketing.
Features
Drag and drop content editor to customize your email templates
In-depth campaign analytics to keep a tab on campaign effectiveness.
Segmentation and personalization to target your audience efficiently.
Automated email campaigns to save you time and effort.
A/B testing to test different email variations to find the best one.
Best Used For
Advanced segmentation and personalization to target customers precisely
Campaign booster to improve campaign performance.
Pros
Easy to create and send email campaigns
Sound customer support
Single dashboard to keep track of all campaigns
Real-time analytics
Advanced segmentation
Cons
Too many features make it complex to use.
Pricing
Free plan is available at $0 per month.
Startup plan starts at $49 per month
For the enterprise plan you need to content them.
Customer Review
"I use the Notifyvisitors app to send automated emails to my customers with a peace of mind. its user friendly and would definitely recommend to anyone looking to up their marketing automation." Customer review
Best for Product Sourcing
Shopify Rating: 4.6
Printful allows you to print your creative on various items like t-shirts, tank tops, phone cases, bag packs, hoodies, and others. It allows you to sell unique, customized products to your customers without the need to keep stock.
Rather than building huge amounts of inventory, your products are created and printed on demand. After a customer places an order, Printful will receive an automatic notification, print the product with your design, and send it directly to the customer.
Key features
Orders are filled and sent to your customers under your brand
Built-in tools to enable you to create product designs
Numerous products to choose from
No up-front payments; you only need to pay once an order comes
Custom branding that allows you to boost your brand's visibility
Product personalization enables you to give a personal touch to your customers
Pricing
A free plan is available, plus paid plans starting from $9/month for the Plus Plan and $49 for the Pro Plan.
Best used for
Dropshipping from different continents
Creating and selling customized products with a unique design
Pros
Easy integration with your online store
Millions of products to choose from
No need to hold stock
Cons
Low margins
Limited branding options
Customer review
"Love the Printful app. It has some awesome features, and the integration with Shopify compared to other platforms is outstanding. I find that shipping rates are slightly high. Apart from that, Printful is all good". Customer review
Best Free Dropshipping App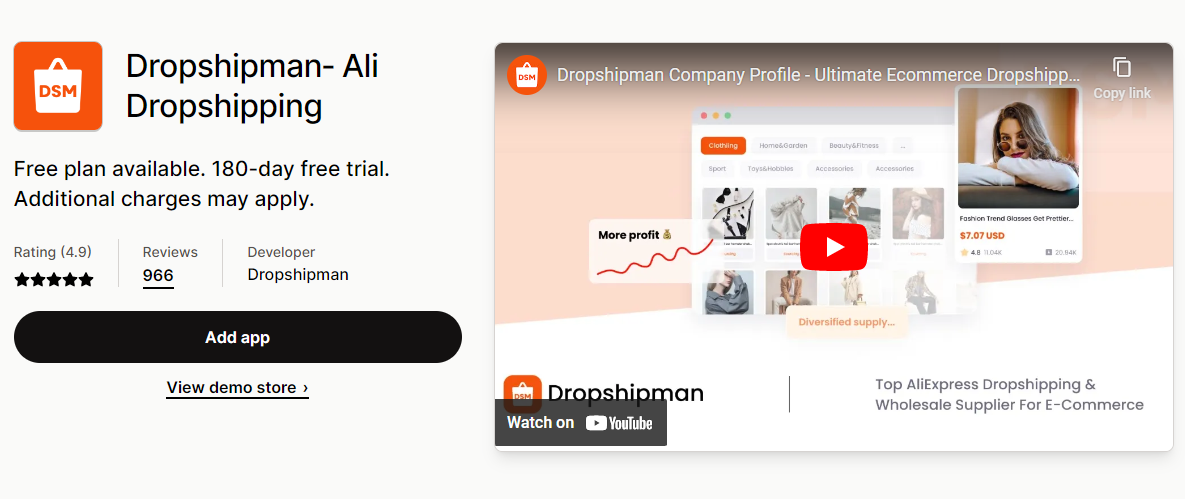 Shopify Rating: 4.9
If you want to quickly expand your e-commerce business without any upfront investment, Dropshipman is a wonderful choice for you. This top-rated Shopify dropshipping app is 100% free to use. It allows store owners to import AliExpress products, process orders in bulk, and fully automate Shopify dropshipping. Moreover, they can optimize profitability through product sourcing (no MOQ), customize products for brand building, and fulfill orders globally with fast & reliable shipping methods.
Key features
Fast product sourcing from Chinese wholesale suppliers for higher profit margins.
One-click import products from AliExpress and Dropshipman Marketplace to your Shopify store with just a few clicks.
Fast & secure order fulfillment at low costs – 7 ~ 15 days shipping to most countries in the world.
Labeling, custom packaging, free quality inspection, and inventory storage services for growing your own brand.
24/7 customer support & dedicated personal agent to solve problems you have at any time.
Pricing
Free to use. Dropshipman has become free to use since November 2021, which means that by contacting the support team, you can get a forever free upgrade.
Best Used for
Assisted product sourcing from Chinese suppliers
Importing AliExpress products in bulk
Processing dropshipping orders in bulk
Keeping prices, inventory, and tracking numbers updated
Pros
Free to use
Boosts productivity and lowers costs
A wide variety of services are available
24/7 multi-language support
Cons
Some tutorials need to be updated
Customer review
"This is a wonderful application for dropshippers! It covers all your needs. You can source winning products and easily import them to your store. The support team is responsive and amazing as well. I highly recommend it because it saves your time in sourcing awesome products (Y)" Customer review
Shopify Rating: 5.0
This AliExpress e-commerce solution allows users to place bulk dropshipping orders and payments conveniently. Besides AliExpress, DSers integrates well with other top e-commerce platforms like Woocommerce, Wix, and Shopify.
With DSers, you can easily find numerous AliExpress suppliers with a single click. You can also automate all your tasks, including placing orders, choosing shipping methods, synchronizing order status, generating order tracking numbers, and managing multiple stores.
Key features
Multiple store management: Easily manage several stores across different platforms like Woocommerce, Wix, and Shopify from a single platform.
Fast order placement: DSers automatically synchronizes all orders on your e-commerce platform, allowing you to place orders quickly.
Multiple dropshipping supplier management: This allows you to get multiple suppliers for one product
Pricing
The app has a free basic plan and 3 paid plans. Its advanced plan costs $19.9/month, Pro Plan costs $49.9, and the Enterprise plan at $499.9/month.
Best used for
Optimizing several aspects of the dropshipping process in a single place
Finding products for your store
Finding suppliers for products
Pros
Easy to use
Saves time and money
Order tracking
Supports various languages
Cons
Limited integrations
Paid plans have complex features which beginners may find difficult to use
Customer review
"DSer's customer service is 24/7, and it is timely and professional. I usually can receive a response 1 min after I send my questions. Recently, I received help from Aaron. He/She answered my questions professionally and promptly and created a pleasant chatting vibe. Many thanks again for Aaron!" Customer review
Best for Social Media Marketing
Shopify Rating: 4.9
This Shopify app allows you to display your Instagram feed on your online store. The Instagram feed will instantly update as soon as you upload a new photo to Instagram. You can quickly create a dynamic consumer experience and boost customer engagement by displaying aloof your most recent products in a single location.
What's best, potential buyers can browse and purchase your products directly from the feed as it is enabled for shopping.
Key features
Shoppable Instagram feed which allows you to link your blog posts to your Instagram and tag several products allowing your customers to shop directly from the feed.
Fully customizable, enabling you to edit your feed title, space between posts, and layout, letting you display the optimal layout to your store visitors.
Create social proof: Utilize your Instagram content to build social proof and convert visitors into customers.
A visual editor that allows you to design your Instagram feed the way you desire and display your content in under one minute.
Pricing
A free plan is available with limited features. Paid plans start at $6.99/month for the Pro Plan and $17.99 for the Plus Plan.
Best used for
Converting visitors into customers with social proof
Displaying your well-designed Instagram feed
Pros
Shows the number of likes on a post
You can tag multiple products on your post
You can customize the number of rows and columns for mobile
Cons
The free version is limited
Customer review
"Perfect App. It's working, it's for free, and they have great support. I recommend this app". Customer review
Shopify Rating: 4.8
This social media promotion app lets Shopify stores promote their stores out there. You can use this app to create sale promotions and post your new products on Facebook, Instagram, Twitter, and other social media platforms. With Outfy, you can automatically create product videos, collages, and GIFs and share them on various platforms.
Key features
Popular social media channels: The app supports various social media platforms, including youtube, Facebook, Instagram, and Twitter, among others. These allow you to reach a wide target audience.
Autopilot feature: The app automatically chooses products from your categories and creates videos, collages, or GIFs, then shares them on social media
Schedule: This lets you schedule your posts for future months
Customized themed templates: This allows you to create content quickly
Pricing
It has a 7-day free trial and paid plans that start from $15/month for the starter plan, $30/month for the pro plan, and $60/month for the ultimate plan.
Best used for
Consistently promoting your products on social media
Crafting beautiful product creatives automatically
Pros
Saves time
Automatically shares your products on social media
Easy to use
Cons
Limited free plan
Customer review
"I used this app to help spread brand awareness for my store. The free plan is okay, but a video collage would be nice to have on it".
Best for Referral, Affiliate, and Influencer Marketing
Shopify Rating: 5
This referral marketing solution for Shopify stores helps you reach your most devoted customers and spread the word about your business to others. It makes it possible for you to give incentives that help to convert customers into brand advocates for your business. You can use this app to track referrals directly and grow your business. What's better, the solution integrates with SMS marketing programs and other apps like email marketing, ad retargeting, and site analytics tools. It's also very easy and quick to set up.
Key features
Deliver branded customer service: You can customize your landing pages and emails with your brand colors, logo, and images.
Automate your referral program: This allows you to automatically reward customers who have successfully referred others.
Post-purchase pop-ups and emails which allow you to recruit existing customers to your referral program
Pricing
Offers a 30-day free trial plan and paid plans costing $59/month for the premium plan and $299/month for the plus plan
Best used for
Rewarding customers for marketing your business through word of mouth
Pros
Saves time with the automation feature
Offers a risk-free free trial
Detects suspicious actions
Cons
It can be complex when testing a new referral program internally
Customer review
"Hey! We have been using Referral Candy for almost a couple of years, and it is great how easy it is to have a Referral Program, thanks to them. The support is excellent, and especially JC has been beneficial with all our needs and questions". Customer review
Best for Sales & Promotions
Shopify Rating: 5.0
This on-site marketing tool is designed to help businesses expand their email lists and increase sales. It enables you to utilize pop-ups, sign-up bars, exit intent, and on-site messages to deliver messages to any segment of the visitors to your web.
Key features
Contextual targeting: This allows you to craft specifically-targeted messages to reach exactly who you need and when you need them.
Simple-to-use campaign builder: Utilize drag-and-drop campaign builder to help you create pop-ups within no time.
Mobile-supported Shopify pop-ups: This helps create awesome pop-ups on mobile which comply with Google's SEO guidelines.
Track, test, and optimize: This allows you to track clicks, displays, and conversions for your pop-up campaigns and see how they impact your conversions and revenues.
Pricing
14-day free trial available. Paid plans start from $29/month for 50k page views, $49/month for 100k views, $99/month for 250k views, and $149/month for 500k views.
Best used for
Personalized on-site marketing
Converting website traffic
Driving traffic to product pages
Pros
Intuitive drag-and-drop pop-up builder
You can test and track pop-up performance
You can activate multiple campaigns at the same time
Cons
Not very easy to navigate
Customer review
"Wisepops is incredibly intuitive. Many options for design with A/B testing, targeting, and segmenting. We have been very pleased!" Customer review.
Best Shopify Apps: Summary
Thousands of apps are available today to help you run your business successfully. The right app will make it easy for you to run your business effectively and propel it to growth.
What app are you using for your store?
Well, there you have it all. Our list of the best Shopify apps you can use to grow your business. From product sourcing, marketing, referral programs, and SEO, you'll find an app that your business needs from this list.
Let us know what you think.